Imposter syndrome can be overcome with the right mindset and strategies. In this article, we will explore practical tips to help individuals deal with imposter syndrome and gain confidence in their abilities.
Imposter syndrome is a psychological pattern that affects millions of individuals globally, making them feel like they are frauds or undeserving of their success. This feeling is prevalent among high-achievers and can be detrimental to their mental well-being and career advancement.
Many individuals with imposter syndrome self-sabotage, refuse to accept praise, and avoid taking on new challenges. This article aims to help individuals who struggle with imposter syndrome by highlighting practical tips that can help them gain confidence and overcome this mental hurdle. These tips include recognizing and accepting your achievements, reframing negative thoughts, seeking support, cultivating a growth mindset, and setting achievable goals. By applying these strategies, individuals can break the imposter syndrome cycle and thrive in their personal and professional lives.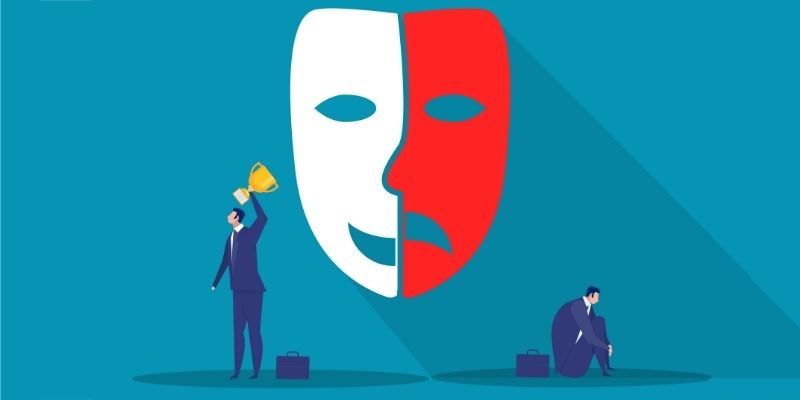 Credit: insightfulcounselling.com
Recognizing Imposter Syndrome
Understanding Common Symptoms
Do you ever feel like you don't deserve the success you've earned, that you're simply faking it, and that you'll be exposed as a fraud any day now? If you answered yes, then you're not alone. Many high-achieving individuals suffer from imposter syndrome.
Imposter syndrome is the feeling of being a fraud, despite evidence of your competence and achievements. Here are the common symptoms that you need to recognize:
Doubting your abilities
Fear of being found out or exposed as a fraud
Belittling your accomplishments
Self-doubt and uncertainty
Feeling like a fraud even when you aren't
Ways Imposter Syndrome Can Manifest
Imposter syndrome can manifest in a variety of ways, and it affects people in different ways. Here are five ways imposter syndrome can manifest:
Perfectionism: Striving for perfection and being afraid of making mistakes, even minor ones, is a common sign of imposter syndrome.
Setting unrealistic standards for yourself.
Feeling like nothing is ever good enough.
Being overly critical of everything you do.
Overworking: Overworking or overachieving can be a way to compensate for feeling like a fraud.
Pushing yourself too hard to achieve your goals.
Working long hours without taking breaks.
Never feeling satisfied with your work, no matter how much you accomplish.
Sabotaging yourself: Self-sabotage is a common symptom of imposter syndrome.
Avoiding opportunities that might reveal your weaknesses.
Procrastinating and missing deadlines.
Not speaking up when you have something to share for fear of sounding stupid.
Comparing yourself to others: Comparing your abilities, achievements, and success against others is a common way imposter syndrome can manifest.
Feeling like you don't measure up to others.
Focusing on the accomplishments of others rather than your own.
Feeling jealous or resentful of other people's success.
Overvaluing negative feedback: People who suffer from imposter syndrome may overvalue the negative feedback they receive and undervalue the positive feedback.
Taking negative feedback personally and feeling like a failure.
Overthinking and dwelling on negative comments.
Disregarding compliments and positive feedback.
Now that you know the common symptoms and ways imposter syndrome can manifest, you're one step closer to overcoming it. Remember, imposter syndrome is a common phenomenon, and it doesn't define your worth or abilities. Stay tuned for our next post, where we'll provide tips on how to conquer imposter syndrome and gain self-assurance.
The Psychology Of Imposter Syndrome
Have you ever felt like a fraud despite being successful? Do you have a persistent fear of being exposed as an inadequate or incompetent person? If yes, then you're not alone; many individuals struggle with imposter syndrome, which is a psychological pattern that affects self-esteem and self-worth.
In this section, we'll delve into the psychology of imposter syndrome by highlighting three of its contributing factors.
How Beliefs About Intelligence And Ability Contribute To Imposter Syndrome
Individuals with imposter syndrome have beliefs about intelligence and ability that contribute to their self-doubt and self-criticism. These beliefs often stem from their upbringing or societal expectations.
Those with imposter syndrome tend to attribute their accomplishments to external factors such as luck or help from others. When they experience success, they doubt their abilities and worry that they won't succeed next time.
As a result, these individuals may engage in self-sabotaging behaviors, such as procrastination, avoidance, or perfectionism, to maintain their sense of control.
The Role Perfectionism Plays
Perfectionism is a common trait among individuals with imposter syndrome. They have high expectations and set unrealistic goals for themselves, making it challenging to meet their standards.
Having perfectionist tendencies can lead to procrastination, fear of failure, and self-doubt. Individuals with imposter syndrome are afraid to make mistakes and believe that anything less than perfect is unacceptable.
Perfectionism can hinder personal growth and limit opportunities for success. Those who strive for perfection often struggle to accept feedback, take risks, or step out of their comfort zone.
The Impact Of Societal And Cultural Pressures
Societal and cultural pressures play a significant role in imposter syndrome. People are socialized to believe that success is solely based on individual effort, and failure is a sign of personal weakness.
Individuals with imposter syndrome may internalize these beliefs and feel they can't measure up to societal standards. They believe that they have to work harder or be more successful than their peers to gain recognition or respect.
Cultural factors such as race, gender, ethnicity, and sexual orientation can also contribute to imposter syndrome. People from marginalized groups may feel pressure to work harder or achieve more to overcome stereotypes or discrimination.
Imposter syndrome is a multifaceted phenomenon that is influenced by various psychological, social, and cultural factors. By understanding the underlying causes of imposter syndrome, we can help others recognize and overcome these internalized feelings of self-doubt and inadequacy.
Strategies To Overcome Imposter Syndrome
Imposter syndrome is a feeling of self-doubt, prevalent among high achievers who struggle to recognize their accomplishments. It can cause individual's constant anxiety and fear of being exposed as a fake. However, conquering this feeling is entirely possible with these expert tips:
Reframe Negative Self-Talk To Positive Affirmations
Negative self-talk can be limiting and destructive, preventing individuals from reaching their full potential. Replacing negative thoughts with positive affirmations can help reframe an individual's mindset and foster more constructive self-talk. Here are some ways to practice positive affirmations:
Start the day with a positive affirmation.
Replace negative thoughts with positive thoughts.
Write down positive aspects of yourself and your achievements.
Visualize yourself as a confident and successful individual.
Accepting And Learning From Failures
Failure is a natural part of growth and success. It's essential to learn from it and avoid letting it hold you back. Failure doesn't define you, how you react to it does. Here are some ways to approach failure in a positive way:
Acknowledge the failure and take responsibility.
Learn from the mistake and create a plan to move forward.
Reframe the failure as a learning opportunity.
Cultivate a growth mindset by recognizing that failure is a necessary part of growth.
Celebrating Accomplishments And Acknowledging Strengths
Celebrating accomplishments and acknowledging strengths are important acts of self-love and care. It's crucial to take time to recognize personal achievements and strengths to build self-confidence and break free from imposter syndrome. Here are some great tips for acknowledging accomplishments:
Create a list of personal achievements.
Treat yourself to a reward for your accomplishments.
Avoid comparing yourself to others.
Recognize personal strengths and unique qualities.
Mindfulness Practices To Cultivate Self-Awareness And Self-Compassion
Practicing mindfulness can help individuals cultivate self-awareness and self-compassion while breaking free from imposter syndrome. Mindfulness practices involve being present in the moment and accepting thoughts and feelings without judgment. Here are some ways to practice mindfulness:
Practice meditation or deep breathing exercises.
Engage in mindful activities such as yoga or nature walks.
Increase self-awareness by journaling or self-reflection.
Practice self-compassion by recognizing emotions and treating oneself kindly.
Seeking Professional Help When Necessary
Overcoming imposter syndrome can be challenging, and sometimes professional help is necessary. Seeking therapy or coaching from qualified professionals can help individuals work through imposter syndrome and other emotional blocks. Here are some ways to know when seeking professional help is warranted:
When imposter syndrome symptoms interfere with daily life.
If imposter syndrome causes significant anxiety or depression.
When other self-help strategies aren't helping to break free from imposter syndrome.
Remember, overcoming imposter syndrome may take time, but with these strategies and recommendations, individuals can take the first steps to self-assurance and growth.
Cultivating Self-Assurance
Being a victim of imposter syndrome can be demotivating, particularly when trying to achieve personal or professional goals. However, it's essential to remember that you are not alone in this battle. With perseverance and practical steps, it's possible to conquer this syndrome and overcome self-doubt.
Here are some expert tips for cultivating self-assurance.
The Importance Of Self-Care In Overcoming Imposter Syndrome
Self-care is a crucial aspect of overcoming imposter syndrome. Maintaining a balanced, healthy lifestyle is crucial for physical and mental well-being. Some of the self-care practices that can help you overcome imposter syndrome include:
Getting enough sleep
Eating balanced and nutritious meals
Engaging in regular exercise and physical activities
Finding time for leisure and hobbies
Practicing mindfulness, meditation, or yoga
Taking care of yourself promotes positivity and helps you to develop self-confidence.
How To Set Healthy Boundaries
Having healthy boundaries can benefit mental, emotional, and physical health, provide a sense of self-respect and cultivate self-worth. Setting boundaries may seem daunting, but here are some helpful tips:
Identify the areas where you need to create boundaries, for example, ensure that you are not burdened by tasks that aren't yours.
Communicate your boundaries clearly and respectfully and assertively.
Remove people from your life who constantly violate your boundaries.
Healthy boundaries can help you to feel more secure and confident.
Building A Support Network
Developing a support network is crucial for building self-assurance. Here are few tips on how to do it:
Seek out supportive friends and family. They can provide encouragement and help you build confidence.
Consider seeking professional help from a counselor or therapist who can provide additional support and guidance.
Join support groups or take part in online communities that share the same struggles as you.
Building a support network can provide you with emotional and practical support and authenticity to achieve your goals.
Making A Practical Plan For Personal And Professional Growth
Developing a practical plan for personal and professional growth can help you move forward and conquer imposter syndrome. Here are a few tips:
Determine your goals and be specific and realistic with them.
Break down your goals into actionable steps with specific timelines.
Celebrate and track your achievements regularly.
Reevaluate your plan regularly to ensure that you are on track with your goals.
Creating a practical plan can help you stay focused, motivated, and confident.
Conclusively, overcoming imposter syndrome requires practice, persistence and self-awareness. Incorporating self-care, building a support network, setting healthy boundaries and creating a practical plan, are some of the critical ways to build self-assurance and conquer this syndrome. Keep in mind that progress, not perfection, is essential.
Keep moving forward and believe in yourself, you have got this!
Frequently Asked Questions Of [Plr] Overcoming Imposter Syndrome
What Is Imposter Syndrome?
Imposter syndrome is a feeling of inadequacy despite evident success and skills.
What Causes Imposter Syndrome?
Imposter syndrome can be caused by upbringing, personality traits, and societal expectations.
How Can I Overcome Imposter Syndrome?
To overcome imposter syndrome, acknowledge your feelings, recognize your accomplishments, and seek support.
Can Therapy Help With Imposter Syndrome?
Yes, therapy can help with imposter syndrome by addressing underlying mental health conditions and providing coping strategies.
What Are Some Tips For Managing Imposter Syndrome?
Some tips for managing imposter syndrome include reframing negative self-talk, setting realistic expectations, and focusing on learning and growth.
Conclusion
Overcoming imposter syndrome is a challenge that many professionals face in their careers. It's easy to get caught up in feelings of doubt and self-worth, but with the right approach, it's possible to overcome these limiting beliefs. The key is to recognize your strengths and cultivate a growth mindset.
Surrounding yourself with supportive people who believe in you and your abilities can also help to build confidence and overcome imposter syndrome. Additionally, practicing self-care and taking action towards your goals can help to shift your mindset and overcome imposter syndrome for good.
Remember, you are capable and deserving of success, and with the right mindset and support, you can overcome imposter syndrome and achieve your goals. Don't let imposter syndrome hold you back from reaching your full potential.
Author:
My name is Fahim Tajwar, and I have been engaged in internet marketing for the past two years. As an affiliate marketer, I actively work with various marketplaces like WarriorPlus and JVzoo. When it comes to recommending products, I focus only on powerful tools, marketing courses, plugins, or anything that has given me excellent results in the past. With so many internet marketing tools available, I am selective and choose only those that can genuinely help increase our income.