Hay Day How to Make Money Fast: To make money fast in Hay Day, focus on selling high-demand products and completing boat and truck orders efficiently. Are you looking for ways to make money quickly in Hay Day?
We will guide you on how to maximize your earnings in this popular farming simulation game. Hay Day offers various opportunities to generate income, whether it be through selling goods or completing orders. By focusing on high-demand items and efficiently managing boat and truck deliveries, you can ensure a steady flow of money into your virtual farm.
In the following sections, we will explore some effective strategies to help you make money fast in Hay Day. So let's dive in and start boosting your farm's profits!
Understanding The Game Mechanics
Overview Of Hay Day Gameplay
In Hay Day, players are immersed in a charming and idyllic countryside setting where they get to manage their own farm. The game offers a variety of activities, such as planting and harvesting crops, raising livestock, and crafting goods to sell. As players progress, new areas of the farm unlock, providing opportunities for expansion and increased productivity.
Introduction To In-game Currency (coins And Diamonds)
Hay Day utilizes two primary forms of currency – coins and diamonds. Coins are earned through selling goods and completing orders. They are used to purchase items, upgrade buildings, and unlock new features. Diamonds, on the other hand, are a premium currency that can be acquired through gameplay achievements or by purchasing them with real money. Diamonds serve as a valuable resource for speeding up processes, purchasing special items, or unlocking certain decorations.
Importance Of Experience Points (xp)
Experience points, commonly referred to as XP, play a crucial role in Hay Day. They are earned by performing various actions on the farm, such as harvesting crops or completing orders. Accumulating XP allows players to level up, unlocking new crops, animals, buildings, and decorations. Leveling up is essential for progression in the game and provides access to new features and challenges.
Maximizing Crop And Animal Production
In order to make money fast in Hay Day, it's important to focus on maximizing both crop and animal production. One way to do this is by choosing and planting high-yield crops. Look for crops that have shorter growing times and high sell prices. This will allow you to harvest and sell your crops more frequently, generating quick profits.
When it comes to harvesting, it's important to be efficient. Invest in efficient harvesting techniques such as upgrading your tools and using helpers. This will speed up the harvesting process, allowing you to get more crops and products ready for sale in a shorter amount of time.
To expand your revenue streams, consider breeding and expanding your animal farms. Breeding animals can lead to more offspring and ultimately more products to sell. Upgrade your animal shelters to accommodate more animals and increase their production rates.
To summarize, focus on choosing high-yield crops, implementing efficient harvesting techniques, and expanding your animal farms through breeding. By following these strategies, you can maximize your earnings and make money fast in Hay Day.
Trading And Selling For Profit
In Hay Day, making money fast is essential for your farm's growth and success. One way to achieve this is by trading and selling items for profit. Utilizing the roadside shop effectively can attract more customers, resulting in higher sales. To do this, it is important to stock your shop with a variety of items that players frequently need. Keep an eye out for rare items, as they tend to fetch a higher price. Strategies for acquiring rare items include participating in events, completing boat orders, and visiting the newspaper to find players selling them. Another effective way to make money is by establishing profitable trade routes with other players. Identify items that you can easily produce and trade them with other players who have a surplus of items you need. By engaging in strategic trading, you can maximize your profits and strengthen your farm's financial position.
Completing Profitable Orders And Tasks
Completing profitable orders and tasks is a key strategy to make money fast in Hay Day. Understanding the Derby and its benefits is the first step in achieving this. The Derby is a weekly event where you compete with other players to complete a set of tasks. Completing tasks not only rewards you with coins and experience points but also increases your chances of winning special prizes.
To maximize your earnings, it is important to select and fulfill high-value orders. Look for orders that pay well and require items that you can easily produce or acquire. Prioritize fulfilling these orders to earn more coins. Additionally, focus on unlocking and upgrading your machines to increase your production capacity, allowing you to fulfill orders more efficiently.
Another technique for making money fast is to complete tasks efficiently. Pay attention to the time required to complete each task and try to finish them as quickly as possible. Use diamonds, if necessary, to speed up the task completion process. Remember to balance your resources and prioritize tasks that offer significant rewards.
Utilizing Hay Day Events And Special Offers
Hay Day offers several special events throughout the year that can help players make money fast. These events provide great opportunities to earn valuable rewards and maximize your gains. Let's take a closer look at some of the popular events and the rewards they offer:
| Event | Rewards |
| --- | --- |
| Truck Orders | Coins, experience points, tools, and vouchers |
| Boat Orders | Coins, experience points, puzzle pieces, and special items |
| Town Visitors | Coins, experience points, puzzle pieces, and special items |
To ensure you make the most of the events, here are some tips for maximizing your gains:
Plan your activities around the events to complete more orders and tasks.
Focus on completing high-value orders for better rewards.
Participate actively in community activities during events to earn additional rewards.
In addition to events, Hay Day also offers special offers and discounts that can help boost your earnings. Keep an eye out for these offers in the in-game shop and take advantage of them to:
Save coins by purchasing items at discounted prices.
Unlock special items that can be sold for higher profits.
Get exclusive decorations and farm upgrades that enhance your productivity.
By utilizing the events and special offers in Hay Day, you can make money fast and progress quickly in the game.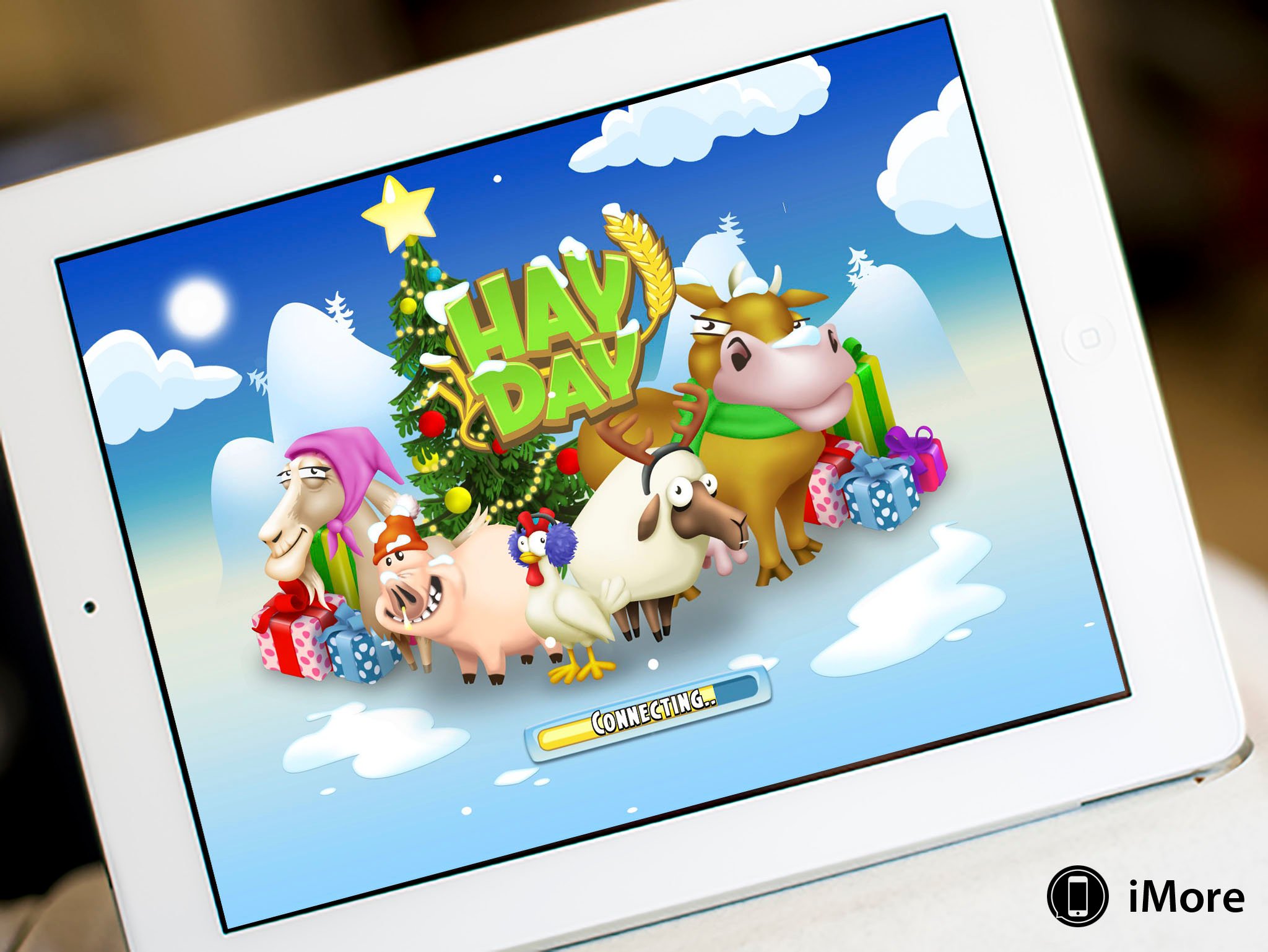 Credit: www.imore.com
Expanding And Optimizing The Farm Layout
To make money fast in Hay Day, it is crucial to efficiently arrange your buildings and fields. This not only expands your land and storage capacity but also helps increase production and processing times.
Strategies for expanding land and storage capacity:
Plan your farm layout – ensure a logical and smooth flow between buildings and fields.
Clear obstacles – remove trees, bushes, and rocks to make space for expansion.
Prioritize land and storage upgrades – invest in land expansions and storage upgrades to increase capacity.
Tips for faster production and processing times:
Organize production buildings – place similar production buildings together for easy access.
Upgrade production buildings – upgrade your buildings to improve production efficiency.
Optimize field placement – group related fields together to streamline harvesting and planting.
Utilize queue system – queue up multiple production orders to minimize idle time.
Visit other farms – participate in neighborhood events and visit other farms to gain rewards and unlock new production options.
Building A Profitable Fishing Operation
In the game Hay Day, building a profitable fishing operation can be a great way to make money quickly. Fishing not only offers a fun and relaxing activity but also provides opportunities to catch rare fish and valuable items. To increase your chances of catching these valuable items, try to unlock and upgrade fishing spots as you progress in the game.
To maximize your profit from selling fish, focus on catching rare fish and items that are in high demand. Keep an eye out for events and special offers that can help you earn more coins for your catches. Additionally, consider using bait and lures to attract rare fish and increase your chances of catching them. Selling your fish at the roadside shop or to other players through the newspaper can help you get the best prices.
To sum up, fishing in Hay Day can be a profitable venture if you focus on catching rare fish, utilizing bait and lures, and selling your catches strategically. By implementing these strategies, you can make money fast and efficiently enhance your fishing operation.
Establishing A Successful Roadside Shop
Establishing a successful roadside shop involves attracting customers with effective advertising, implementing pricing strategies for maximum sales, and managing and replenishing stock. To attract customers, it is important to create eye-catching advertisements that highlight the unique features and offerings of your shop. Utilizing digital platforms and targeted marketing can help reach a wider audience and increase visibility. Moreover, offering discounts or promotions can incentivize customers to choose your shop over competitors. When it comes to pricing, finding the right balance is crucial – setting prices too high may deter customers, while setting them too low may reduce profits. Regularly assessing and adjusting prices based on market demand and competition is recommended. Continually managing and replenishing stock is essential to meet customer needs and avoid stockouts. Monitoring inventory levels, tracking popular products, and having efficient restocking processes in place can help ensure uninterrupted sales.
                                 Hay Day How to Make Money Fast: DEMO VIDEO
Utilizing Hay Day Neighborhood And Friends
In Hay Day, joining a neighborhood can be a great way to increase your earnings quickly. When you join a neighborhood, you gain access to a variety of benefits. For starters, collaborating with your neighbors can lead to additional profits. You can trade resources such as crops, animals, and products, which can help you earn more coins and experience points. Additionally, sharing resources with friends can help you complete tasks faster and unlock rewards. Joining a neighborhood also provides you with a community of players who can offer helpful tips, strategies, and support. You can ask for advice on how to improve your farm and maximize your profits. So, make sure to become an active member of your neighborhood and take advantage of all the opportunities for collaboration that it offers.
Managing Resources Effectively
Hay Day is a popular farming simulation game that allows players to build and manage their own virtual farms. One important aspect of the game is generating coins and diamonds, which are essential for purchasing new items and expanding the farm. To effectively manage resources, players can employ various techniques for conserving and utilizing these valuable currencies. Maximizing the use of tools and supplies is a key strategy. When harvesting crops, ensure that you use a tool with a greater number of uses to maximize the value of your purchase. Additionally, timing your harvests strategically can help you earn more coins and diamonds. Consider planting and harvesting crops that have shorter growth cycles, allowing for multiple harvests within a shorter time frame. Furthermore, participating in special events and completing orders from the roadside shop can be a great way to earn extra coins and diamonds. Take advantage of these opportunities to boost your earnings. By following these techniques, players can efficiently manage their resources and make money fast in Hay Day.
Utilizing Boosters And Perks
Boosters and perks are key tools in making money fast in Hay Day. These power-ups can significantly increase your profits and enhance your gameplay. There are various boosters available in the game, each with its own unique effects.
One popular booster is the Double XP Booster, which doubles the amount of experience points you earn for a limited time. This can help you level up faster and unlock more lucrative opportunities. The Coin Booster, on the other hand, increases the amount of coins you earn from selling goods in your farm. It's a great way to maximize your earnings from your crops and products.
To make the most of these boosters, it's important to use them strategically. Consider using boosters during peak times when player activity is high and demand is greater. Focus on maximizing your productivity during these periods to earn more coins and experience points.
In addition to boosters, perks can also enhance your gameplay and earnings. Perks such as the Time Extension perk can give you extra time to complete tasks, allowing you to be more efficient in your farming activities. The Production Boost perk, on the other hand, increases the speed at which your crops and products are produced, enabling you to fulfill orders faster and increase your profits.
By utilizing boosters and perks effectively, you can expedite your progress in Hay Day and make money fast. Take advantage of these power-ups to maximize your earnings and enhance your overall gaming experience.
Staying Updated With Game Updates And Tips
Staying updated with game updates and tips
Keeping yourself informed about new features and tips is crucial to making quick money in Hay Day. One way to stay connected is by joining the Hay Day community and following the official channels. The community provides a platform for players to share their experiences and strategies, while the official channels offer updates and announcements directly from the game developers.
Techniques for staying informed about new features and tips
There are several techniques you can use to stay up to date with the latest features and tips. Regularly checking the official Hay Day website is a good starting point. The website often contains news, blog posts, and guides that can help you make money fast. Joining the official Hay Day forums is another excellent way to access valuable information from experienced players. Additionally, following Hay Day's social media accounts, such as Facebook and Twitter, can provide quick updates and exclusive content.
Accessing online communities for additional guidance
Exploring online communities dedicated to Hay Day can provide you with additional guidance and insights. These communities are often filled with passionate players who are willing to share their knowledge and strategies. Participating in discussions and asking questions in these forums can help you understand the best techniques to make money fast in Hay Day. Some popular online communities to consider are Reddit's Hay Day subreddit and various Hay Day Facebook groups. Remember to be respectful and engage in meaningful conversations to get the most out of these communities.
What Is The Most Profitable Thing To Make And Sell On Hay Day?
The most profitable thing to make and sell on Hay Day depends on your current level and resources. However, some popular options include selling crops like wheat or corn, producing goods like cheese or bacon, and investing in livestock such as pigs or cows.
Experiment to find what works best for you!
Which Tree Is Most Profitable Hay Day?
The most profitable tree in Hay Day is the cherry tree due to its high selling price and quick growth time.
Is There Cheats For Hay Day?
No, there are no cheats available for Hay Day. It's important to play the game fairly and enjoy the experience without using any cheats.
What Are The Fastest Ways To Earn Xp In Hay Day?
The fastest ways to earn XP in Hay Day include completing orders, filling truck deliveries, and harvesting crops. You can also gain XP by completing boat orders, feeding animals, and visiting other players' farm through the town.
Conclusion
To summarize, implementing the strategies mentioned in this blog post can help you make money fast in Hay Day. By focusing on maximizing your farm's productivity, selling high-profit items, participating in derby events, and utilizing the roadside shop effectively, you can quickly generate revenue and expand your game progress.
Stay updated on market demands and employ smart tactics to ensure steady growth. Take charge of your virtual farm and watch your profits soar in no time!
Author:
My name is Fahim Tajwar, and I have been engaged in internet marketing for the past two years. As an affiliate marketer, I actively work with various marketplaces like WarriorPlus and JVzoo. When it comes to recommending products, I focus only on powerful tools, marketing courses, plugins, or anything that has given me excellent results in the past. With so many internet marketing tools available, I am selective and choose only those that can genuinely help increase our income.